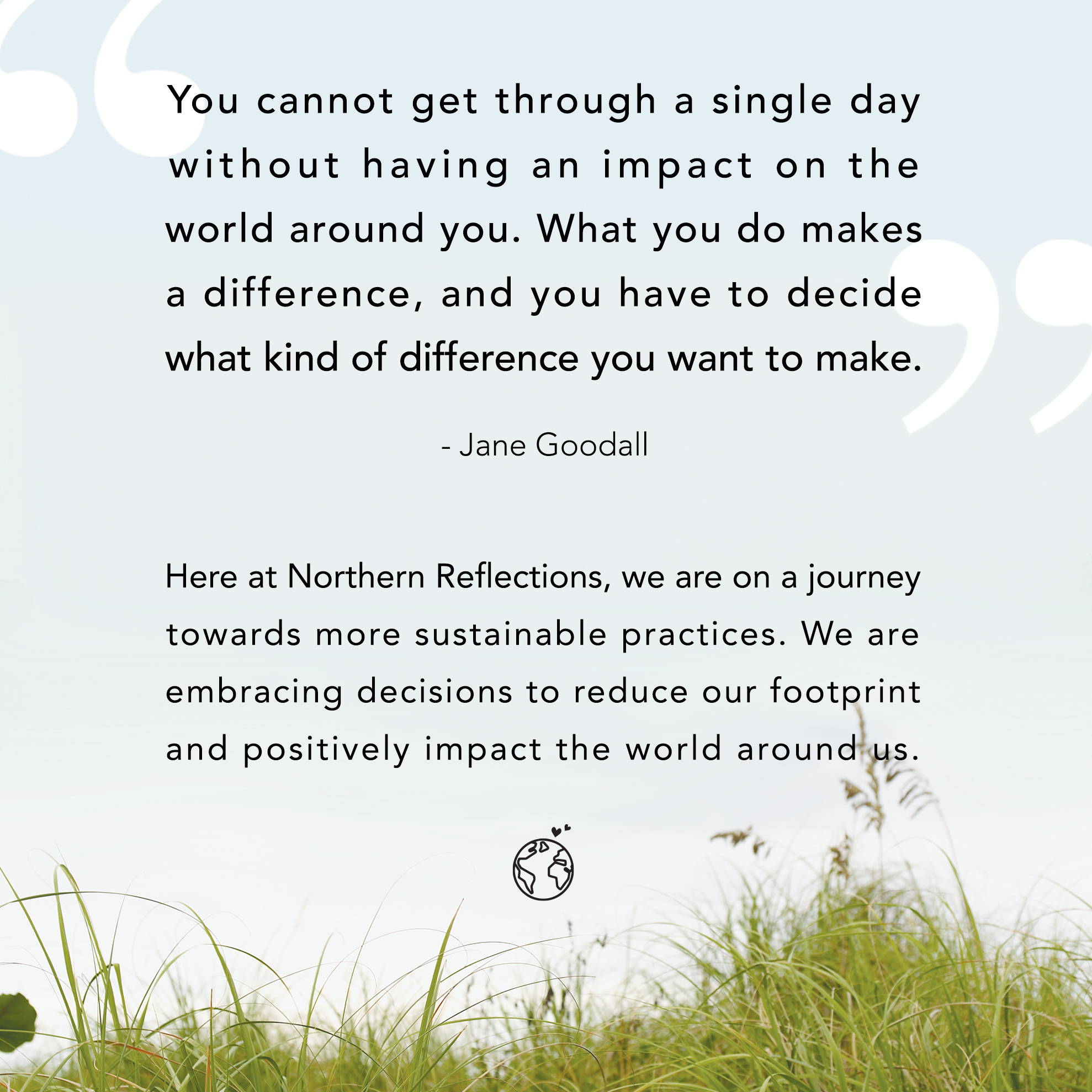 In an effort to provide as much clarity as possible around our journey and impact, we've put together some information to help answer any questions you might have.
---
What is 100% Post Industrial Recycled Plastic?
This plastic material consists of finished plastic that never left the factory; think of it as scrap materials. To aim for as little waste as possible, many factories will recycle these "leftovers" into other products and materials (like our shopping bags).
What Is 100% FSC® Recycled Paper and why is it better than other paper?
The Forest Stewardship Council® (FSC) is an independent, non-governmental, not-for-profit organization that was established to promote the responsible management of the world's forests. Unlike general 'recycled' claims, which require no verification, the "FSC Recycled" label indicates that 100% of the paper fibre is recycled, and at least 85% is post-consumer waste. Post-consumer waste is any paper product, such as milk cartons, books, junk mail, magazines, and more, that people have actually used and put in the recycling bin.
I want to know more about Children's Miracle Network®
Through increasing awareness for the need of funding for children's hospitals in Canada, Children's Miracle Network aims to change kids' health. In collaboration with generous partners like Northern Reflections and hospital foundations, they raise funds to support local children's hospitals across the country. Together, we are helping improve or save lives of children in our communities. Visit childrensmiraclenetwork.ca for more information. To learn more about Northern Reflections' impact visit northernreflections.com/cmn
How does BRANDS FOR CANADA help Canadians and the environment?
BRANDS FOR CANADA is a national, not-for-profit charity organization that exists to ensure those living below the poverty line have access to proper clothing and other basic essentials necessary for a dignified and prosperous life. This is done through donations of new clothing, personal care and housewares' items collected from participating brands, and distributed at no cost to those in need. Northern Reflections is aligned with BRANDS FOR CANADA's vision and is partnering with them to work toward a sustainable world where surplus goods are purposefully used to eliminate poverty and inequality. Visit brandsforcanada.com for more information.


What sustainable printing methods is Northern Reflections using?


Digital Printing: Requires less water and energy than other processes. It also uses significantly less ink which reduces waste.


Laser Printing: Designs are applied directly to fabric using laser technology, which requires minimal water, no harsh chemicals, and less energy than other methods.


Sublimation Printing: A virtually waterless printing process that generates less waste than other methods and prevents dye from entering water systems.
What is mono-material?
Mono-materiality occurs when only one fibre content is used, instead of a blend. For example, our 100% cotton collection is considered mono-material. The process of recycling becoming more effective when a garment is made of a single fibre. Mono-material design is an important step in facilitating the disassembly and material re-use in the future of design, as one of the major obstacles for re-using and recycling materials from post-consumer clothing is that most products today are made from more than one fibre.


What is ethical sourcing?
Ethical sourcing is the process of ensuring the products being sourced are obtained in a responsible and sustainable way, that the workers involved in making them are safe and treated fairly, and that environmental and social impacts are taken into consideration during the sourcing process.


How does WRAP, BSCI and SMETA help ensure ethical sourcing?


Worldwide Responsible Accredited Production (WRAP) is an independent, non-profit team of global social compliance experts dedicated to promoting safe, lawful, humane, and ethical manufacturing around the world through certification and education. A WRAP certification audit inspects the entire production process to ensure compliance with the 12 WRAP Principles and provides assurance that our goods are ethically produced. Visit wrapcompliance.org for more information.
The Business Social Compliance Initiative (BSCI) supports companies to drive social compliance and improvements within the factories and farms in their global supply chains. BSCI implements the principle international labour standards protecting workers' rights such as International Labour Organization (ILO) conventions and declarations, the United Nations (UN) Guiding Principles on Business and Human Rights and guidelines for multinational enterprises of the Organization for Economic Co-operation and Development (OECD). Visit amfori.org for more information.
Sedex Members Ethical Trade Audit (SMETA) is an audit methodology, providing a compilation of best practice ethical audit techniques. It is a globally-recognized way to help conduct high quality audits that encompass all aspects of responsible business practices and covers supply chain activities such as labour rights, health & safety, the environment and business ethics. Visit sedex.com/smeta-audit for more information.