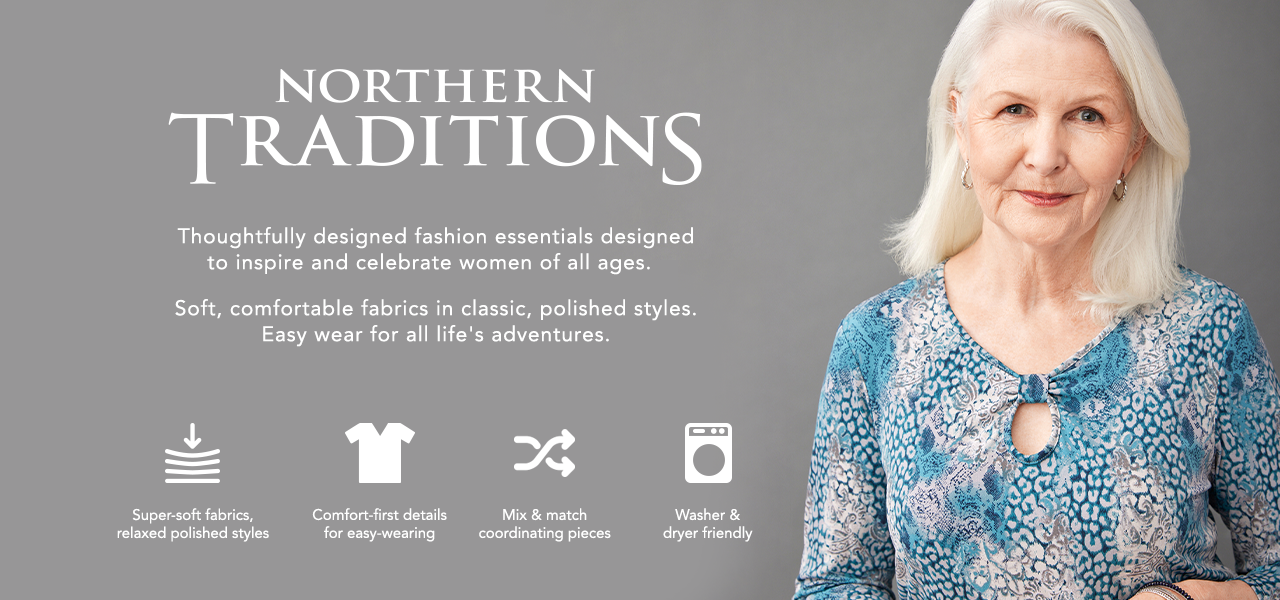 At the heart of everything we do and all we stand for is the firm belief that every woman deserves to feel beautiful and cherished. Today, we are proud to take our vision a step further and introduce Northern Traditions – a capsule collection of essential clothing styles that embraces a mature woman's changing body.
We launched Northern Traditions to fill the gap of comfortable women's clothing, that doesn't fall short on the style quotient. With each printed top, knit pant or soft jacket in this collection – our hope is that you feel confident and comfortable every time you wear them.
The entire collection is designed with love and a comfort-first approach. Think thoughtful details such as extra room around waist and arms, no zip-closures at the back, easy pull-on styles – all the little things that make a world of difference when it comes to easy wearing.
| | | |
| --- | --- | --- |
| | | |
These everyday coordinating fashion pieces are practical and versatile so you have everything you need to move confidently out and about or in the comfort of your home. Our expert team of stylists and designers have carefully chosen fabrics that are super-soft to wear, easy to wash and dry (with no ironing needed), this means that the pieces are built to last, even in industrial machines.
We've taken our sweet time and care to ensure that the Northern Traditions Collection offers more than just clothes – it offers practical fashion choices for you to wear every day . Because if there's one thing we all know for sure – it's that age doesn't define style and everyone deserves to feel fabulous!
| | | |
| --- | --- | --- |
| | | |
Shop our Northern Traditions collections at a store near you or click here to explore our products!